Category Leadership
Progressive Grocer Honors Chiquita with 2019 Category Captain Award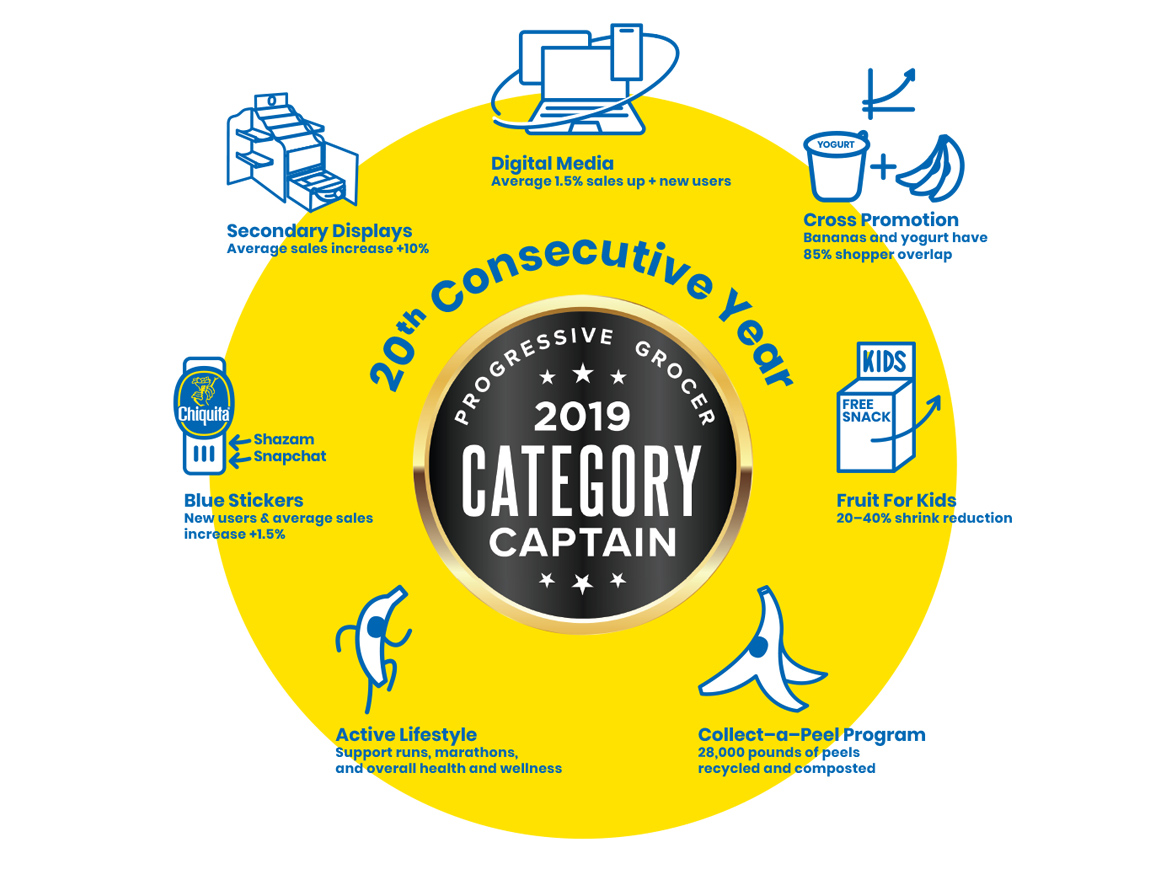 We are honored to receive the 2019 Category Captain Award for the twentieth year in a row from the leading industry publication Progressive Grocer.
The competition this year was heightened more so than in past years, as it considered overall achievement in shopper-centric category management retailer collaboration and sales impact.
The idea of category management is moving beyond individual categories toward a 360-degree view of the store. The future lies in shopper-centric solutions that deliver on key consumer need-states and help grocery shoppers visualize the possibilities for any eating occasion. We're proud to recognize Chiquita for continuing to demonstrate movement in this direction.
Through a comprehensive and holistic category management approach that leverages leadership in category, shopper and consumer insights, Chiquita continues to identify successful and innovative ways to drive category sales by embracing technology to attract its target consumer — millennials. As these consumers continue to gain spending power and contribute to overall business growth, it's imperative for retailers to keep attracting this key demographic.
On behalf of Chiquita, we are thrilled and humbled to be recognized as a leader for two decades by one of the most prominent authorities in the produce and grocery space. At Chiquita, we strive to create growth within the category through not only our continuous commitment and delivery of unique, engaging programs and insights, but ultimately our continued dedication to providing the highest quality product for our consumers. The continued recognition from this award speaks volumes to our excellence as a company, especially given the increased competition year over year.
Promoting Healthy Snacking
Chiquita continues to reinforce its role in the growing health and wellness space with innovative programs developed to inspire and establish healthy eating habits that young consumers can carry throughout the rest of their lives. A recent secondary display program proved successful, showing a sales increase by ten percent compared to previous years. Chiquita leveraged these category insights to launch a healthy, kid-friendly snacking campaign with a Southern retailer this past Spring, which resulted in Chiquita being the only branded partner to be featured year-round, instead of being rotated based on seasonality like other fruits. The program also helped reduce shrink by using the broken clusters of bananas that might otherwise not be purchased. Chiquita has reduced shrink in similar programs 30-40%.
Using Digital Media to Gain New Consumers
To continue these eating habits into the school year, Chiquita partnered with an Eastern retailer to provide easy lunchbox solutions. Chiquita targeted millennial moms through online media content geared towards lunch recipes and back to school ideas. Through a mix of in-store signage, circulars and website banners, the campaign successfully drove new users to the retailer's website. The results were astounding – more than 90 percent of users driven to the site were new, and in-store banana sales rose 1.4 percent compared to the previous period.
Using Research to Drive In-Store Promotions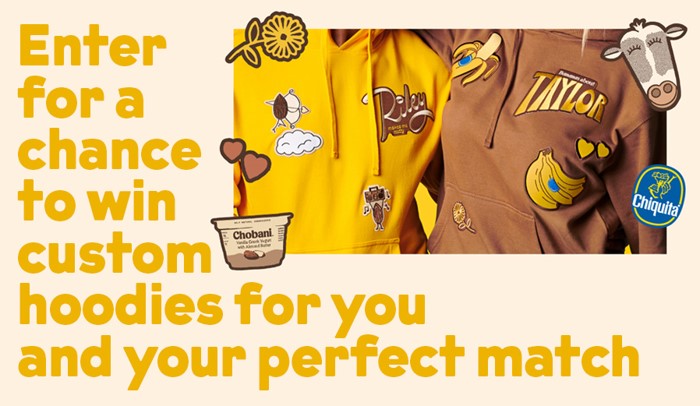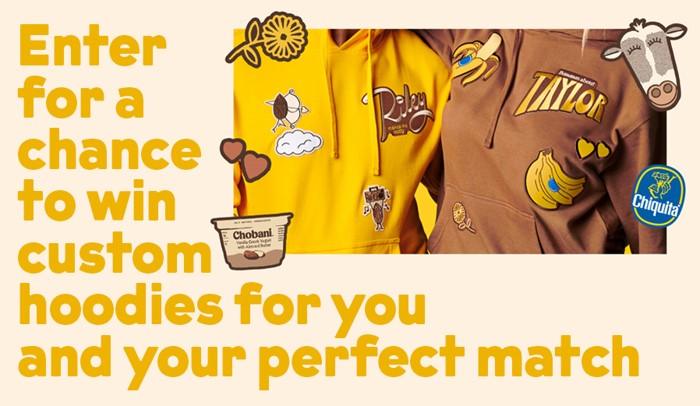 Knowing that consumers are looking across categories for easy solutions, Chiquita uncovered that bananas and yogurt have a buyer overlap of 85 percent. Chiquita used this insight to team up with Chobani, the number one brand in the basket, to create the ultimate banana and yogurt smoothie bowl promotion. Preliminary results reveal that the banana category experienced significant sales lift during the promotional period.
Blue Sticker: Small Space, Huge Impact
Chiquita pioneered three strategic partnerships with culturally relevant millennial by utilizing technologies to bring its small, yet iconic Blue Sticker to life. While these promotions are digitally-focused, they push the consumer to the store, thus driving category sales. Three successful promotions completed this year included:
1. LEGO Movie 2
– The LEGO Movie 2 promotional partnership campaign was awarded with Silver at The 2019 CLIO Awards and garnered more than 8 million impressions.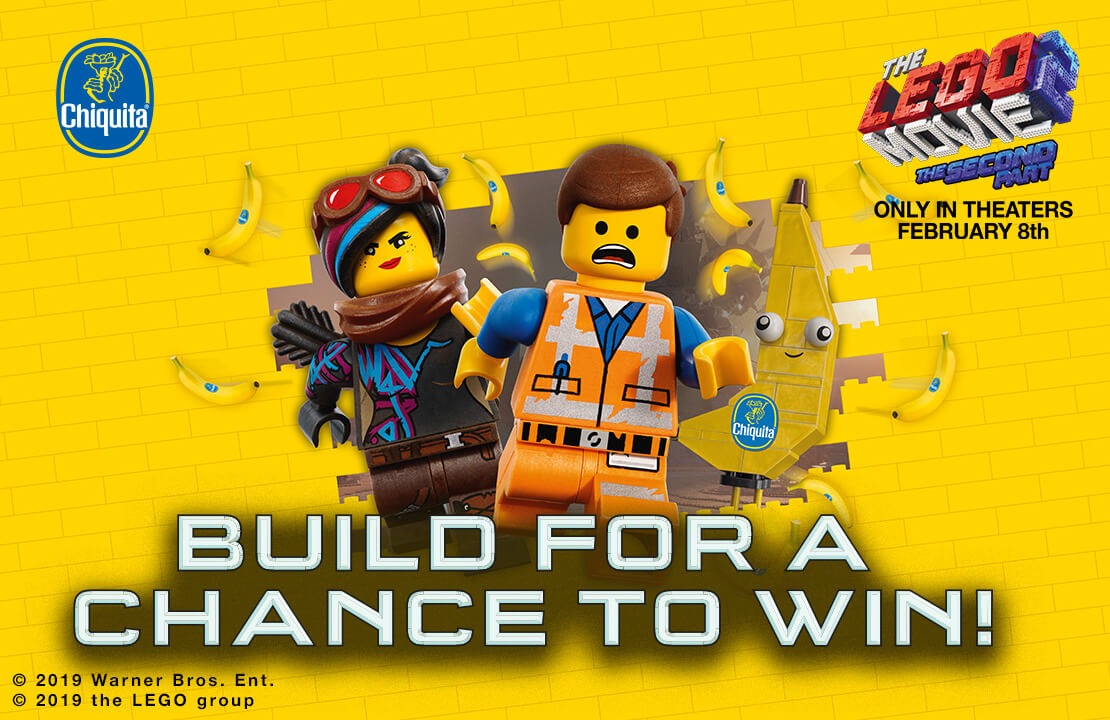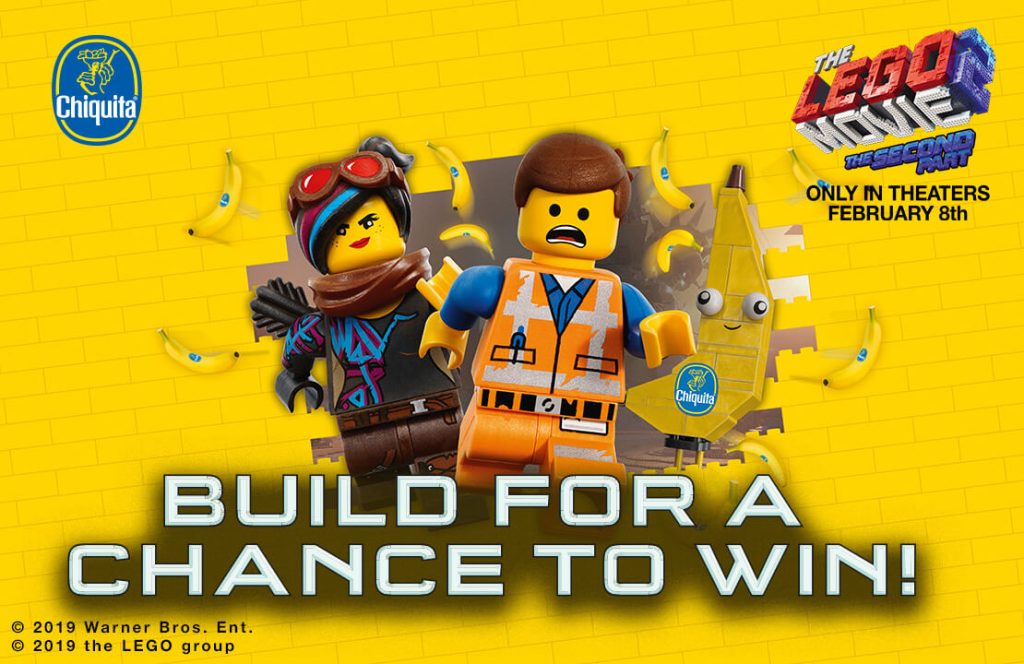 2. World Banana Day
– The campaign generated 5.3 million impressions and Snapchat in the U.S. saw 19,644 sessions which made up nearly 12 percent of all Snapchat traffic.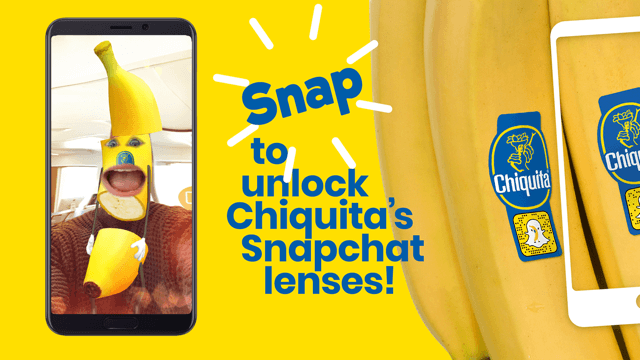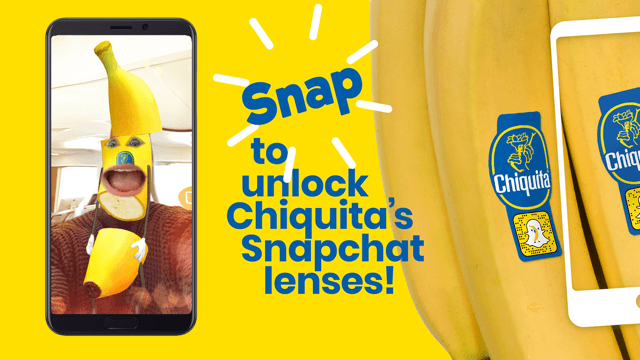 3.Fitness Sticker Challenge
– Chiquita launched a health-boosting sticker during the run/marathon season with short and simple challenges for all fitness levels. The flight had 15 million social media impressions and an additional 2 million through influencers, resulting in an impressive amount of user generated content.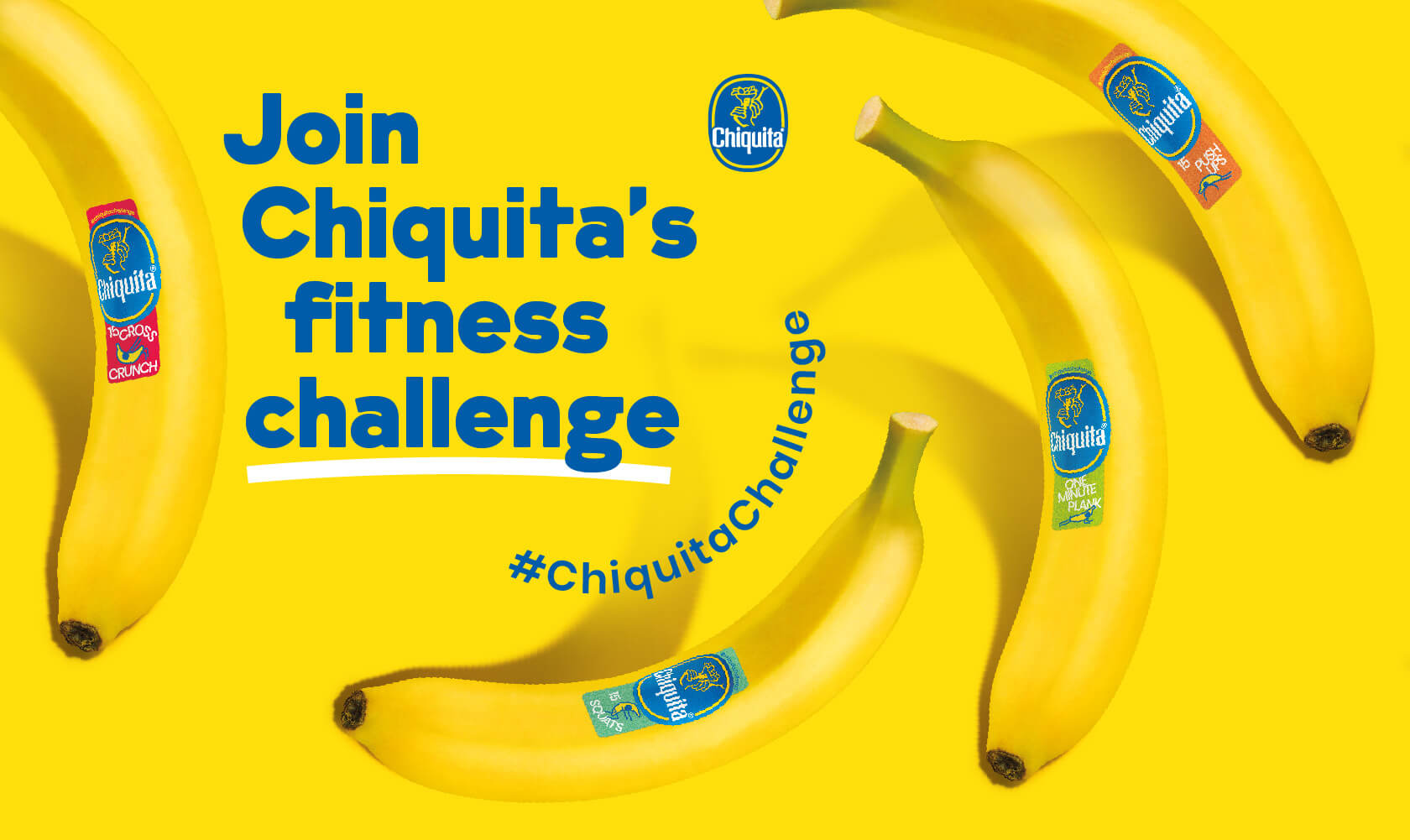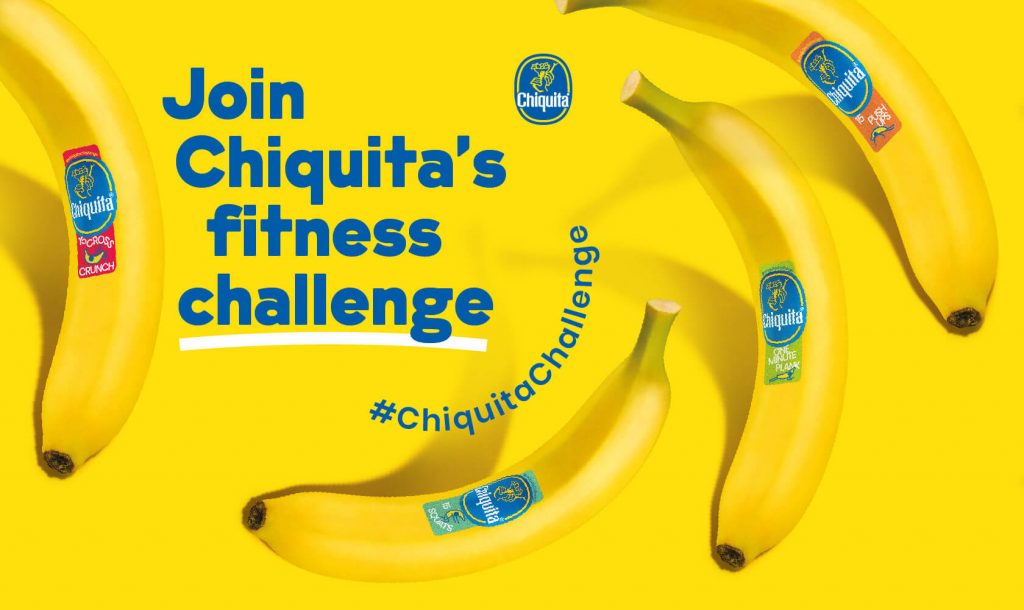 Supporting Active Lifestyles While Taking Care of the Environment
To promote a sustainable source of fuel for athletes, Chiquita launched the first banana peel collection and recycling program during the Walt Disney World Marathon Season as part of a larger strategy focused on environmental responsibility. 28,000 pounds of peels were recycled, equaling 14 tons of food scraps being diverted from landfills and turned into electricity and fertilizer.
Bananas are a mature category, making it difficult to use product-centric differentiation. By relying on research, insights and its iconic brand status, Chiquita can develop unique solutions to drive sales with its retail partners. Chiquita continues to pioneer innovation within the banana category while also adapting to an ever-changing market, staying true to its mission to win the hearts and smiles of the world's consumers by helping them enjoy sustainable healthy fresh foods.